News Archives For December 2007
index | previous month | next month | latest news
12.26.2007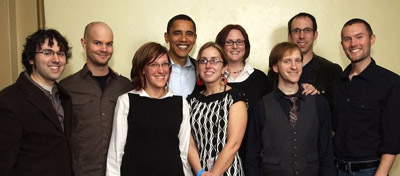 So I was watching the news the other night and I swear I saw members of Canasta flashing behind Barack Obama's head. Too much holiday nog (is that possible)? You were not hallucinating, at least for that newscast. December has been a huge month for the Canasta crew. The marquee on the Riv summed it up: "Obama Rocks". Canasta got the party going in a big way December 7th as we opened the all-star benefit concert at the legendary Riviera Theater for Chicago's very own Barack Obama. The evening saw a mass of talent on the stage: Jill Sobule, Macy Gray, The Changes (who actually backed Macy. Yes, I said backed, as in backing band. They threw the funk down), 3rd Eye Blind, an amazing headlining set by our heroes, Wilco, and Obama himself gave an impassioned speech to the packed house. Canasta could not have been more honored to play at such an inspiring event.
The very next week found Canasta at one of the city's finest venues, Schubas, playing to a sold out crowd. Forty-five minutes of block rocking beats got Schubas' floors bouncing before the New Amsterdams took over and kept it on and on into the midnight hour.
After all that commotion you'd think we'd be taking a holiday breather. Not so fast. Music writing continues to be the band's focus and as we move into the new year we're finalizing gems for the new album. The sound of Canasta continues to grow in a way that's got fuse boxes blowing like no other. The band cannot wait to share this new batch with you in the new year. Catch us live to hear what we're feeling.
Outside of Chicago and feeling the Canasta itch? We've definitely got the touring itch and we're scratching in a big way. Keep an eye on the site as we finalize plans for getting around the US in the first half of '08. And that's just a tease.
We wish to thank everyone who has supported us in 2007. Many new friends were made this year as the Canasta family continues to grow. You all mean the world to us. Have a safe and happy holiday season.
Xoxo, Canasta
2008 — Year of the Fakeout