We're always adding more shows. Check back with us soon to see if we're playing your town.




We'd love to hear from you, whatever the reason. You can reach us at any of the addresses below. If you'd like to hear more from us, you might want to subscribe to our newsletter.
General Inquiries
(The Band)
Booking Inquiries
(Matt Priest)
PR / Licensing Inquiries
(Elizabeth Lindau / Matt Priest / Ryan Tracy)
Music / Merchandise Orders
(Ryan Tracy / Matt Priest)
Website Issues / Suggestions
(Matt Priest)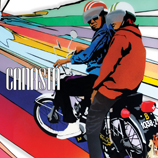 The Fakeout, the Tease
and the Breather
Available now!

"…Canasta has been one of my favorite Chicago bands for some time now, as well as ranking near the top of my list for the smartest and hardest working groups in town."
— Jim DeRogatis
full text
"…you need to hear this band… witty and whip-smart, that's Canasta. Deft arrangements and intricate polyrhythms are oh, so pretty."
— Chicago Tribune
full text
"…masterful construction of hooky songs… Perhaps too polished for the hipster set, or enigmatic with their sporadic release schedule, Canasta holds their own against the big craftsmen of pop…"
— Epitonic
full text / recording session
"It has continued to write songs that fill themselves out in all the right places - offering quirky and charming, gritty and mopey succinctly… they're that good."
— Daytrotter
full text / recording session
"…a celebrated stalwart of 'orchestral pop'… intricate, delicate, sometimes deeply emotional pop music."
— Chicago Sun-Times
full text / cover photo
"…as versatile a rock band as the city has ever offered."
— Illinois Entertainer
full text
"…deftly balances between being very much of its time
and place and carving out something individual at the same time… The whole band has a great ear for performances that complement each other's work and provides the icing on the cake…"
— Ned Raggett, AllMusic
full text
"Best of Chicago 2010… loaded with intricate yet accessible orchestral pop music."
— Huffington Post
full text
"Rarely is new music categorized as being both immediately accessible and dizzyingly complex, but [Canasta] manage this feat so adroitly at times that it even makes Win Butler and Régine Chassagne look like rookies… manages to astound just as much on the first listen as it does on the fifth…"
— Adequacy.net
full text
"This stuff is almost prog-rock in its scope and ambition, hurtling along on a sea of
dense instrumentation and atypical rock instruments…
we love Canasta, and don't
see how anybody wouldn't."
— Chicago Tribune
full text
"Kitchen-sink indie par excellence, Canasta has a
way with cacophony that is
often as tuneful and melodic
as it is bursting with ideas…"
— Time Out Chicago
full text
"…sounds so unbelievably good that no major label could improve it… This may seem like an exaggeration, but believe me, indiepop has seldom sounded so pretty as it does
on this second album…"
— Heaven (The Netherlands)
full text
"Winner: Best of Chicago 2010 Fans' Poll"
— The Deli
full text
"…The Fakeout, the Tease and the Breather is one of the best Chicago albums of the year."
— Metromix / RedEye
full text
"The orchestrated pop on this local sextet's new full-length is so perfect—every note falling into place with deeply satisfying craftsmanship—that you'll swear you've heard it before. But you haven't…"
— M. Kendrick, Chicago Reader
full text
"The tone is set for an album of open-air chamber pop that sounds like it wants to go haywire (and become a mess) but has been expertly subdued and shaped and is thus sublime… Pop rarely sounds this warm and natural when it's this intricately composed."
— Chicago Sun-Times
full text
"Chicago's premier orchestral indie pop outfit… The lengthy break between this and their intriguing 2005 debut, We
Were Set Up, allowed the
band's already dynamic
sound to blossom further… melody that soaks deep into your skin before you know what happened… strikingly gorgeous songs…"
— IGN
full text
"At the start of Canasta's new album, you can almost feel storm clouds parting for the 11 sunny, rollicking songs that lay ahead. For nearly a decade, the local chamber-pop group has managed to retain its ambition and melodic optimism, without ever coming across as winking…"
— The Onion
full text / cover photo
"…this is not a case of local overhype… a detailed and sophisticated body of songs… you will be wondering just like me: How is it possible that these guys haven't got a
major contract yet?"
— Pop+Rock (Greece)
full text
"The Fakeout, the Tease and
the Breather is an example
of a band working at the
height of their powers…
The lyrics are haunting, the melodies gorgeous, and the instrumental performances by everyone involved are powerful and evocative…"
— Music. Defined.
full text
"…they display both an ambition and a sense of range that any number of early 21st century American groups described in similar terms would be wise to follow… subtle… mesmerizing… stunning…"
— AllMusic
full text
"…Canasta's strength has been mixing genres, ever so slightly, to keep it unpredictable… The band's impressive orchestral pop, which really could catch on at any moment in a big, big way, will not cease in its power – listening again for the first time in a long while, I can't believe I was able to put it down in the first place."
— New City
full text
"Canasta has slowly made a name for itself in recent years, thanks to its inventive arrangements… (the band) has separated itself by layering
its sounds while retaining remarkable catchiness… Canasta looks primed for a considerable breakthrough."
— NPR's "World Cafe"
full text
"Chicago's Canasta play a rich and usually satisfyingly lush brand of orchestral pop… impressively diverse… rapturous…"
— PopMatters
full text