Welcome to the official Canasta store, where CDs and t-shirts can be purchased directly from the band. Below you will find a list of available items, info on ordering, payment and shipping, and finally a list of online and physical music retailers who carry our music. Thanks for shopping!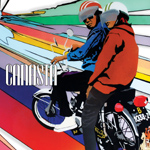 The Fakeout, the Tease and the Breather - CD ($10)
Canasta's long-awaited new album is finally available! See the ordering instructions below, in order to get your hands on a physical copy. Or, if you'd prefer to download it digitally, you'll find some links here. Otherwise, if you still need proof its awesomeness, you can preview it by launching our music player or visiting our audio page.

Couch / Bubble Head T‐Shirt ($15)
This brand new shirt harkens back to simpler times, when a date might consist of sitting side by side on the couch, sharing quaint conversation… and one giant word bubble for a head! This killer design is the handiwork of our own drummer, Brian, and his roommate Paul Halupka. Please note: these are Canvas / Bella brand shirts (modeled after American Apparel), so the sizes run a bit small.

Available colors, styles and sizes:
Navy - Women's S + XL
Navy - Men's S
Sea Foam - Women's S, L + XL
Asphalt - Men's XL
Teal (Not Pictured) - Men's M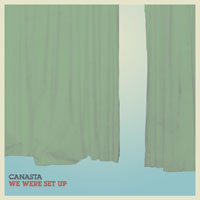 We Were Set Up - CD ($10)
This is Canasta's first full‐length album and included among the thirteen tracks are studio recordings of live favorites such as "Microphone Song," "Shadowcat," "An Apology" and "Sympathetic Vibrations," new songs like "Firenze," "Impostors" and "Heads Hurt Better," plus re‐recorded versions of the classics "Slow Down Chicago" and "Just a Star" (which features guest vocals by Edith Frost). To stream the album, use the music player in the sidebar. Or visit our audio page to download a few of the record's choice tracks!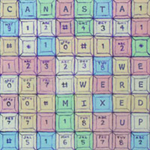 We Were Mixed Up - FREE DOWNLOAD
Once We Were Set Up had sold out its first pressing, anticipation was high for something more. So while preparing demos for their sophomore follow‐up, Canasta invited talented friends to remix that record's songs, resulting in We Were Mixed Up. All in all, it's nearly 100 minutes of music, re‐imagined by some of Chicago's best and brightest, including members of The Hood Internet, Office, Allá, Brighton MA, Roommate and others. As a "thank you" to their fans, this digital‐only release can be downloaded for FREE on the audio page of this site!

Find the Time EP -
CD (SOLD OUT) / FREE DOWNLOAD
This is Canasta's debut EP, which features four original tracks plus a unique arrangement of Kraftwerk's "The Model." The pressing was limited to just 1,000 copies. But now that it's sold out, we've made it available as a FREE digital album! Please visit our audio page to download it.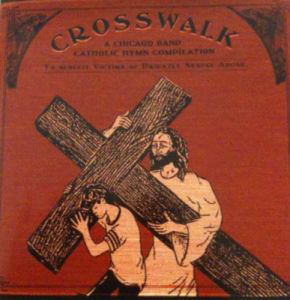 Crosswalk: A Chicago Band Catholic Hymn
Compilation to Benefit Victims of Priestly
Sexual Abuse - CD ($16, incl. S&H, sold here)
Once we were pitched this idea, it didn't take long for us to sign‐up. Collecting twenty‐one of the most beloved Catholic hymns and recasting them in a modern musical light, this compilation benefits the victims of priestly sexual abuse. Included is Canasta's slightly swampy / somewhat spacey version of the traditional church staple, "Praise to the Lord" (mp3 excerpt). It also features music by The M's, Office, The Scotland Yard Gospel Choir, The Aluminum Group, Midstates, Healthy White Baby, Detholz! and thirteen others.

FREEZE‐TAG: A Compilation Benefiting Chicago's
Tangerine Arts Group & Rainbow House - CD ($10)
As the name implies, the proceeds from the sales of this compilation are used to help Chicago's Rainbow House, a non‐profit, domestic violence prevention organization (at one time, proceeds were also used to help the now defunct Tangerine Arts Group). The winter/holiday‐themed collection includes the first track Canasta ever recorded: a haunting waltz entitled "Rescue by Christmas" (mp3 excerpt). It also features music by Office, Midstates, The North Atlantic, Eric Ziegenhagen, La Makita Soma and fourteen other talented artists.

Happy Valentine's Day: Cherry Bomb
Free CD, February 2004 - CD (SOLD OUT)
This promotional compilation was distributed free to shoppers by stores in Chicago's Wicker Park neighborhood. But the pressing was limited to 1,000 copies and thus, it is no longer available. Along with the original, 2003 recording of Canasta's "Just a Star," the disc also featured tunes from Owen, Walter Meego, Kelly Hogan, The Scotland Yard Gospel Choir, The Like Young, Troubled Hubble, Rex Hobart and Che Arthur.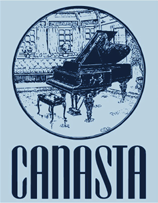 Logo / Piano - SOLD OUT
Canasta's very first t‐shirt came in three rad color combos and was boldly emblazoned with our logo and an old‐timey parlor piano. In fact, we liked the image so much, that we featured it on many of our early concert posters. And the shirt, itself, was popular enough to warrant a second printing. Sadly, these shirts are no longer with us. But we have a more current design available above.
Available colors, styles and sizes:
Brown - SOLD OUT
Heather - SOLD OUT
Baby Blue - SOLD OUT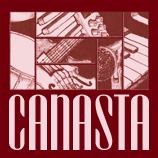 Instrument Collage - SOLD OUT
The design on Canasta's second shirt featured a collage of the band's six main instruments and was available in three classic color schemes. We're also out of these shirt as well. But again, we have another t-shirt option available above.
Available colors, styles and sizes:
Asphalt - SOLD OUT
Dark Red - SOLD OUT
Light Navy - SOLD OUT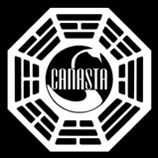 LOST: The Canasta Initiative - SOLD OUT
Canasta's third shirt united sci-fi and band geeks the world over, as it was a tribute to ABC's LOST and featured our take on the logo belonging to the mysterious Dharma Initiative. We're also sold out of this design, but check out the newer one available above.
Available colors, styles and sizes:
Black - SOLD OUT

To order any of the above items, please send a list of what you'd like (including quantities, sizes and colors, if applicable), along with your shipping address and contact info, to .
Pricing for shipping within the U.S. is as follows:
Shipping for any single item is $2.
For each additional item after that, shipping is just $1 per item.
We will also gladly ship overseas; just send us an e‐mail to the above address and we'll be happy to give you a pricing quote.
You can then pay one of two ways:
Make a check, money order or cashier's check payable to "Canasta" and mail it to:

Matt Priest / Canasta
304 S. Wille St.
Mt. Prospect, IL 60056


Or, if you'd prefer, you may pay using our PayPal address: orders@canastamusic.com.
Either way, we'll ship your merchandise as soon as we receive payment.

You can also find our music for sale in cyberspace at:
And in physical format at the following Chicago area record stores:
Along with these out-of-town locations: