CANASTA: Lincoln Hall (Wed. 1/4) + Midwest (Thur. 1/5 - Mon. 1/9) + New Video: "Magazine" + Spotify
(sent on 2012-01-03)
Good morning, grasshoppers. It's been forever and a day, so we've got five things to cover, including 1) a Midwestern tour / Chicago launch date, 2) a new video, 3) Spotify, 4) t-shirt re-stocks, and 5) a slew of new photos. Let's talk turkey...
LIVE THIS WEEK: LINCOLN HALL (WED. 1/4) + THE MIDWEST (THUR. 1/5 - MON. 1/9)
It's been way too long, Midwesterners. Sorry about that; we had a lot of Breaking Bad to catch up on. But we're back, baby. And before we hit the road this coming week, we'll play our first Chicago club gig in five (!) months. This Wed. 1/4, we're at Lincoln Hall, which if you've been to before, you know to be a gorgeous place to eat, drink and see a band like Canasta play. Tickets are cheap and all four bands are excellent, including headliners / record releasers Young Jesus, who you may remember as Brighton MA's TV nemesis on Red Bull's Rock the Route. It's gonna be great. Please come out and see us off, huh? Click here for more specifics on any of the following shows...
Wednesday, 1/4 @ Lincoln Hall (Chicago, IL)
w/ Young Jesus (Rec. Release), Brontosaurus + Hemmingbirds
Show - 8 PM / Canasta - 10 PM / $6 adv. / $10 door / 18+ / Tickets

Thursday, 1/5 @ Cause Spirits & Soundbar (Minneapolis, MN)
Friday, 1/6 @ Bad Genie (Milwaukee, WI)
Saturday, 1/7 @ D.C. Cobb's (Woodstock, IL)
Sunday, 1/8 @ Firebird (St. Louis, MO)
Monday, 1/9 @ Record Bar (Kansas City, MO)


NEW VIDEO: "MAGAZINE" + NEW "VIDEOS" PAGE, IN GENERAL
Throughout Novemeber (and our fare city), we filmed a brand new music video for "Magazine (Songwriter on a Train)," the latest Fakeout single! The Hitchcockian clip was written and produced entirely by Loyola University's music video class and follows our frontman through the streets of the Chicago, to his ultimate demise inside the legendary Drake Hotel. And if you find yourself humming the melody afterwards, we've now made the song available as a FREE download!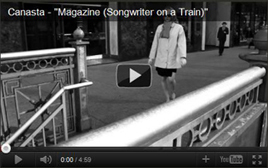 Speaking of that, we've actually just added an entire
"Video" page
to our website. So while the videos for "Mexico City," "Appreciation," "Slow Down Chicago" and "Microphone Song" are obviously all on there, you'll also find live clips of originals and covers of tunes by Blackstreet, Tears for Fears and Elton John. Can you feel the love tonight?
CANASTA'S ON SPOTIFY
'Nuff said. Get listenin'.
"COUCH / CANASTA HEAD" T-SHIRTS BACK IN-STOCK
Ask and ye shall receive. They're still just $15 and they'll be available both at shows and by mail (you'll find ordering instructions here). Once again, we've got multiple gender styles, colors and sizes...
Navy - Men's S + M
Navy - Women's S, M + L + XL
Sea Foam - Women's S, M + L + XL
Asphalt - Men's S, M, L + XL

HUGE UPDATE TO OUR "IMAGES" PAGE
Whenever possible, we try to snap at least a few photos every time the band gets together for anything other than practice. And every once in awhile, we throw a whole bunch of them up on the "Images" page of our website. Well, we just posted a new batch, so head over there to check out pix from our summer festivals, music video shoots, "Belle & Sebastian Night" and a night out with Chicago Bear Lance Briggs... no, seriously.