CANASTA - This Friday @ Logan Sq. Auditorium w/ Artists from Mexico City!
(sent on 2009-11-10)
Buenos días...
This Friday, we're *finally* getting around to playing the The Logan Square Auditorium! It'll also be the first show we've ever performed where we're the only ones singing in English, so it should be interesting. The show's other two acts are both being flown here all the way from Mexico City to make their Chicago debuts... Yes, the same Mexico City which serves as the subject matter for Canasta's soon-to-be-smash-single of that same name (from our upcoming record). Do we dare to we play the song, possibly risking the universe folding in on itself? Yes, we dare!!!

Headliner Natalia Lafourcade is a Latin Grammy-winning pop songstress and holder of two #1 albums in her home country. It's always fun to see someone up close who's usually used to playing to much larger crowds and this should be no exception. But it was the excellent psychedelic synth pop of Hello Seahorse! that caused us to approach the show's organizers about playing in the first place. Check 'em out when you have a chance and you'll see that they're a fine addition to the long and rich history of bands insisting on exclamation points (Neu!, !!!, The Go! Team, Godspeed You! Black Emperor!, Against Me!, and Los Campesinos!)

Lastly, in an effort to reward you Canasta fans for being smarter than the often tasteless general public, tickets are available to you at a major discount. While the ignorant masses are forking over $25 in advance or $30 at the door for their tickets, the secret password "canasta" will allow you to pay just $15! Just say that magic word at the door or enter it online here (in all lower case) and let the savings begin! The doors will open at 9 and by 9:31, our pop rocket will be well on its way to the outer reaches of the rock n' roll solar system.
Muchas gracias y nos vemos en el show!
Canasta


//
//
//
//
//
//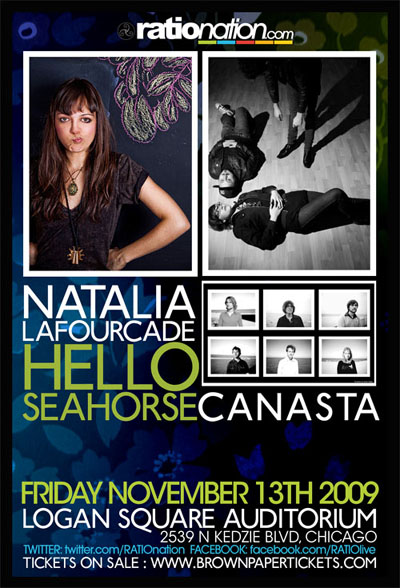 Friday, Novemeber 13th
@ The Logan Square Auditorium
(2539 N. Kedzie - Chicago, IL)
CANASTA
with
NATALIA LAFOURCADE
and
HELLO SEAHORSE!

Show - 9 PM / Canasta - 9:30 PM / 18+ / Presented by Ratio Nation
Discounted Tickets (Just $15 online or at the door w/ the password "canasta")