CANASTA - Free Show @ Simon's (This Sun. 8/23) + Benton Harbor (This Sat. 8/22)
(sent on 2009-08-19)
Top o' the morning to ya -

1) THIS SUN. 8/23 - FREE SHOW @ SIMON'S (JOSH'S FAREWELL) - I know, I know, I know... We just wrote you a few days ago. But every time we play the Sunday night free show at Simon's, a bunch of you miss the gig and tell us later that you wished we'd advertised it better. So ok, here you go. Consider yourselves "in the loop." We go on at 9 and it's gonna be two hours of Canasta tunes: some very old, some kinda old, some sorta new and some very new. It also happens to be Josh's last show as our drummer. This past winter finally broke him and he's moving to Portland. Don't worry though; we plan to continue on as though nothing ever happened. By the way... Anyone know any good drummers?
2) THIS SAT. 8/22 - THE LIVERY (BENTON HARBOR, MI) - Just a reminder to all of our brothers and sisters in "The Hand State" that we'll be rocking and drinking at The Livery brewery in Benton Harbor this Saturday evening. Like the above show, this also looks to be "an evening with" Canasta. So if you're into our stuff, you should get more than your money's worth at this one. But if you're not, I'd recommend staying far, far away. I dunno why, but the phrase "an evening with" makes me feel like we should be covering songs by James Taylor and Joni Mitchell. The show starts at 8.
And just in case any of you were thinking about using either District 9 or Inglourious Basterds as an excuse not to come out to a show this weekend, let me save you some trouble... The bad guys are aliens and the bad guys are Nazis... See you at the shows!
Canasta // Website // MySpace // YouTube // Facebook

What are the members of Canasta into these days, you ask? Today, we check in with Matt...
Band:
The xx,
Song:
"In the NA" by The Hidden Cameras,
Video Game:
Guitar Hero: Metallica
,
Food:
Reduced Fat Triscuits
Movie:
Il Divo: La straordinaria vita di Giulio Andreotti
,
Website:
GoHuman.com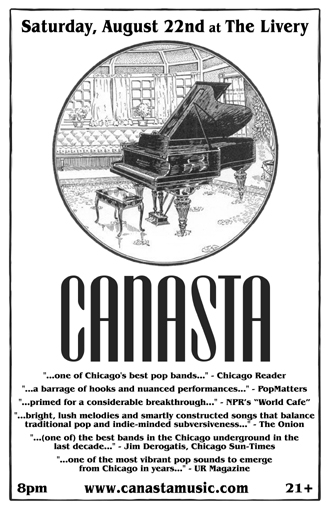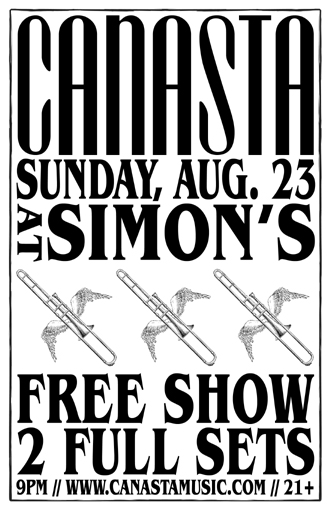 Saturday, August 22nd
@ The Livery
(Benton Harbor, MI)
An evening with...
CANASTA

8 PM // $10 // 21+
**********************************
Sunday, August 23rd
@ Simon's Tavern
(Chicago, IL)
A FREE evening with...
CANASTA

Two 60 Min. Sets (9 & 10:30 PM)
FREE! // 21+