CANASTA - Sat. 8/1 @ The Old Town School w/ Joe Meno, The Astronomer, Todd Baxter + Jay Ryan
(sent on 2009-07-17)
Hey everybody -
1) CANASTA @ THE OLD TOWN SCHOOL - Finally, huh? On Saturday, August 1st, Canasta will make our first appearance at the legendary Old Town School of Folk Music. We're awfully excited about the show. This is no ordinary show, mind you. Along with a set from Canasta, acclaimed author Joe Meno will read from his new novel, "The Great Perhaps" (which is, incidentally, what they're calling this event). Accompanying him will be musicians The Astronomer, photographer Todd Baxter and poster artist Jay Ryan (of The Bird Machine fame). The Old Town School only sells reserved seats, so get your tickets while the gettin's good. It's not often we play shows where we're the loudest band on the bill and it's even less often we play venues where we're the loudest band that's ever been booked. So this should be interesting. Remember when Dylan went electric in '65 and all the folkies freaked out? This could be like that.
2) SHOWS W/ WHITE RABBITS (SOLD OUT EMPTY BOTTLE!) - Man, oh, man, tell me you didn't miss those shows with White Rabbits! They were goooooood. So were we. They've got some crazy fans too. In fact, the Empty Bottle show sold out before it started. Have you ever wondered what it feels like to play a sold out show at Empty Bottle? Well, I'll tell you. It feels like scrambling around between soundcheck and door time to call/text all of your friends who didn't buy advanced tickets, telling them not to come. That's what it feels like. For a review of the Madison gig, pop on over to 77 Square, where they called Canasta "lush and intricate" and also claimed Matt's voice to be "near pitch-perfect." Take *that* Axl Rose!
If you're looking for Canasta this weekend, we'll be at the Pitchfork Fest (Ian will be watching Final Fantasy, Jeremy, Yo La Tengo, Elizabeth, The Flaming Lips, Matt, M83 and Kyle, Grizzly Bear... Josh will be making fun of hipsters). Though if you do run into us, please don't make a big scene, just because you're meeting your favorite band. See, they actually asked us to headline one of the nights... but we've already kinda moved on from the whole "indie rock" thing, ya know? Therefore, we turned it down. So we'll be there, but we're sorta trying to lay low, ok?
Canasta // Website // MySpace // YouTube // Facebook

What are the members of Canasta into these days, you ask? Today, we check in with Matt...
Album:
We Fell to Earth
by We Fell to Earth,
Band
: Mew,
TV Show:
60's-era
Dr. Who
,
Song
:
"Combination Pizza Hut & Taco Bell (wallpaper. remix)"
by Das Racist,
Book:
Piece by Piece
by Tori Amos,
Food:
Pop-Tarts, always
Word:
fanciful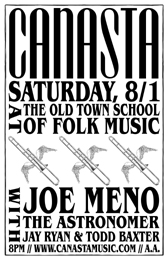 Saturday, August 1st
@ The Old Town School of Folk Music
(Chicago, IL)
"THE GREAT PERHAPS"
featuring
CANASTA
with readings from
JOE MENO (author)
accompanied by
THE ASTRONOMER (musicians)
JAY RYAN (artist) and TODD BAXTER (photographer)

Show - 8 PM // Canasta - 8:15 PM
All Ages // $13 (members) // $15 (members) // Reserved Tickets