CANASTA - Free Show @ Simon's - This Sunday!
(sent on 2009-04-24)
Welcome back, true believers -

Two words... Free show.
Two more words... This Sunday.
Another two words... Simon's Tavern.
Two last words... Two sets.
OK, two absolutely final words... but they're short ones... and I'm not even sure they're words... 9 PM.
I probably could've saved some time and just started by saying, "Ten words...," huh?
Anyway... Two hours of free Canasta in Andersonville. You know the drill.

And hey - If you work or go to school on the Southside and don't have lunch plans today, we're playing on the quad at The University of Chicago at noon. It's part of that institution's "Green Fest" and in observance of Earth Day, Canasta's awe-inducing performance will split the ground in two, allowing attendees an intimate and educational look inside our planet's formidable crust.
And man oh man, I've gotta mention this one last time. Don't forget to take advantage of all the free ringtones on Canasta's Myxer page! We've now posted like twenty song snippets - everything from "Chance at Greatness" to "Canasta Flash Drive." Studies show that phones set to play Canasta ringtones ring far more frequently than phones playing T-Pain ringtones. That's a fact. So get downloading... Your social life thanks you in advance.
Canasta // Website // MySpace // YouTube // Facebook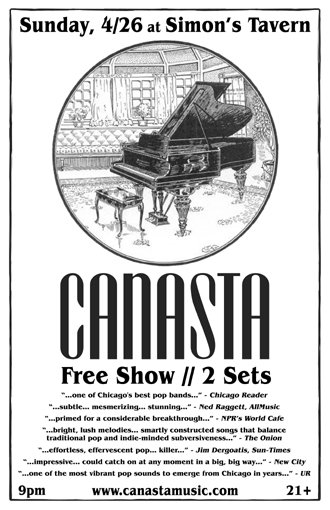 Sunday, April 26th
@ Simon's Tavern
(Chicago, IL)
FREE SHOW
with
CANASTA

2 Sets:
9 PM & 10:30 PM
21+
---
Friday, April 24th
@ The Quad, The University of Chicago
(Chicago, IL)
"GREEN FEST"
with
CANASTA

Noon // Free! // 21+