CANASTA - Reminder: This Sun. (3/29) @ Schubas w/ Ladybug Transistor
(sent on 2009-03-27)
Just a quick reminder that Canasta's playing a set this Sunday at Schubas, with Merge recording artists The Ladybug Transistor. We just confirmed May 1st as the date on which we'll hit the studio to record the follow-up to We Were Set Up, so we'll be kicking out some new jams at this show. We'll also be hugging some old friends, devouring some Mac and Cheese, tossing back some beers and just having an all-around good ol' time. It's just a two-band bill, so we'll be on at 9, followed by The L.T. at 10. Do not make the mistake of spending your Sunday night any other way...
Also, as we speak, we're in the process of preparing a few more tunes for upload to Canasta's Myxer page. So check back there tomorrow for some more free ringtones. No diggity, no doubt.
Canasta // Website // MySpace // YouTube // Facebook

What are the members of Canasta into these days, you ask? Today, we check in with Matt...
Movie:
Anvil! The Story of Anvil
,
TV Show:
Charlie Rose
,
Restaurant:
La Tasca
,
Album:
Kingdom of Rust
by Doves,
Song:
"Hey Little" by Bonnie "Prince" Billy,
Card Game
:
Oh, Hell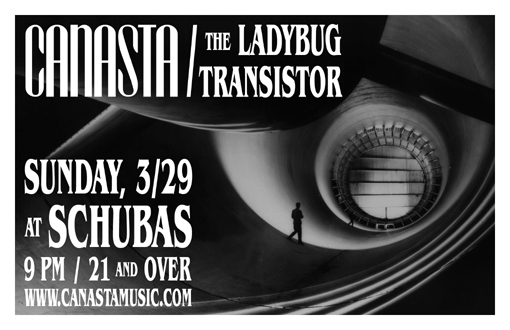 Sunday, March 29th
@ Schubas
(Chicago, IL)
CANASTA
with
THE LADYBUG TRANSISTOR
(Merge Records)

Show - 9 PM // Canasta - 9 PM
21+ // $10 // Tickets