CANASTA - Next Sun. 3/29 @ Schubas w/ Ladybug Transistor + FREE Ringtones ! ! !
(sent on 2009-03-20)
1) SCHUBAS SHOW NEXT SUNDAY - So, despite expending 120% effort, 27 hours a day, for weeks and weeks on end, I'm afraid to report that it appears Canasta's pop magic will not quite be enough to singlehandedly pull our country out of this recession. Disappointing, I know; we were all counting on that. The good news, however, is that we've called in some emergency pop back-up from Brooklyn, in the form of Merge recording artists The Ladybug Transistor. Their dreamy, sunkissed, baroque-pop should be just what Dr. Downturn ordered and it'll be on full display when we play with them next Sunday night, 3/29, at Schubas. We'll begin at 9 and they'll play at 10. According to AllMusic, "... if you've been following them at all, you know that the Ladybug Transistor's best work equals the best pop music made at any time in the past 50 years." Whoa! I dunno about you, but I'm feeling better already! I think I might just bust out the old Visa card and drive on over to Woodfield Mall!
2) *FREE* CANASTA RINGTONES - You demanded ringtones and Canasta listened! Or at least we think that was you... wasn't it? Someone definitely had the idea... Maybe it was me. Hmmm. Well, anyhoo... they're up there now, so let's act like it was your idea. The site is called Myxer and Canasta has our very own page. And downloading them couldn't be easier... there's no account necessary! How sweet is that? You simply click on the song, enter your phone # and then a few seconds later, you get a text message with a download link. You just need a web-enabled phone. End of story. We live in an amazing time in human history, don't we? On there currently is "Mic. Song," "Slow Down Chicago" and "Impostors" (plus "Mr. Me Too" by rappers Clipse, which I uploaded cuz I couldn't find it as a ringtone anywhere else). We'll add more next week... probably "Shadowcat" and "Heads Hurt Better"... or maybe a deep cut, like "All This Dust" or "The Model"... or I dunno, whatever you want us to, really. Just let us know. Seriously. We're flexible and we're here for you and your phone. Just don't start asking us to set-up your voicemail or anything.
Canasta // Website // MySpace // YouTube // Facebook

What are the members of Canasta into these days, you ask? Today, we check in with Matt...
Exclusive, Canasta-Fans-Only NCAA Tip:
North Dakota State Bison
,
Movie:
Gomorra
,
Boardgame
:
Power Grid
,
Album:
Original Soundtrack, "Cool Breeze"
by Solomon Burke,
Song:
"Divinations" by Mastodon,
Restaurant:
Rose Angelis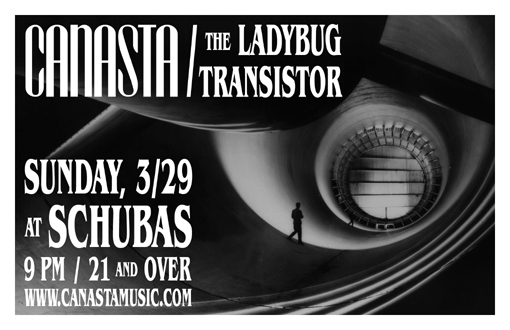 Sunday, March 29th
@ Schubas
(Chicago, IL)
CANASTA
with
THE LADYBUG TRANSISTOR
(Merge Records)

Show - 9 PM // Canasta - 9 PM
21+ // $10 // Tickets