CANASTA - THIS SAT. w/ THE WEEK THAT WAS @ EMPTY BOTTLE !
(sent on 2009-03-05)
1) EMPTY BOTTLE SHOW THIS SATURDAY - Look. I can't tell you how to live your life. All I can do is alert you when amazing opportunities are coming your way and urge you not to miss them. What you do with that kind of precious info is up to you. Take, for example, Canasta's show at Empty Bottle this Saturday with The Week That Was. I could tell you that the band has emerged from the ashes of U.K. art-pop darlings Field Music. I could also tell you that they've taken that band's wiry rhythms, lush harmonies and unpredictable melodies and added huge drums, intense strings and boisterous sing-alongs. I could even go as far as to tell you that their self-titled debut was my favorite record of 2008 and thus, we were falling over ourselves to score a slot on this show. But in the end, you're going to make you own decisions and live with the consequences. And in this case, we both know you're probably gonna skip the whole thing and sit at home in your sweatpants, tagging Facebook photos and eating Funyuns, like you always do... OR ARE YOU ? ? ? Well... if you decide you're ready to start living your life like it matters, TWTW headlines, the 'Nasties play in the middle at 11 and our friends / fellow animal lovers Otter Petter open the show at 10.
2) MATT'S ONLINE INTERVIEW - In this exclusive, no-holds-barred interview with Indie 101's Aly Carr, Canasta vocalist and notoriously private recluse Matt Priest tells all, demolishing any and all rumors, misconceptions and half-truths about the band. He also finds a way to work in an Alice in Chains reference. Get to know the mind behind the man behind the myth behind the band behind the music behind this e-mail...
3) STREAMABLE LIVE SET - A few months back, the fine folks over at Chicago Acoustic Underground invited us to their studio for an interview and five-song acoustic recording session. Imagine their surprise when we arrived with zero acoustic guitars and approximately six times the number of people one usually associates with an acoustic performance. But they accommodated us as best they could and fun was had by all. Stream the session here to find out whether or not it marked a new high point in the band's live history! Or, just continue reading this sentence and find out that it did not. Oh well. But it certainly wasn't bad either... definitely worth a listen.
4) CANASTA ON PHOTOSYNTH - Photosynth incorporates top-secret technology that was beamed to Microsoft from a future race of Tree People, who stole it from an ancient race of Dolphin People. Unbelievable, right? But wait - I didn't even tell you what it does yet! It combines multiple photos taken from a slew of angles into a single, multi-dimensional viewing experience that drops you right into the thick of things that have already happened! Poking around the site will reveal once-in-a-lifetime access to stuff like Obama's inauguration and The Great Pyramids. But I'd recommend starting with something just slightly less significant, such as Canasta's performance at the poorly-titled "Pizza Fest" last June. It requires you to download and install a small piece of software. But then again, you probably just downloaded and installed four tracking cookies, two trojan hijackers and the "Storm Worm" virus in the time it took you to read this e-mail, so who cares? Treat yourself. See ya Saturday...
Canasta // Website // MySpace // YouTube // Facebook

What are the members of Canasta into these days, you ask? Today, we check in with Ian...
Album:
Spectrum, 14th Century (EP)
by Final Fantasy,
Game
:
Dominion
,
TV Show:
Battlestar Galactica
(3 more episodes...),
Restaurant:
Urban Belly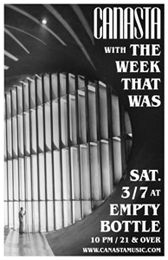 Saturday, March 7th
@ Empty Bottle
(Chicago, IL)
CANASTA
with
THE WEEK THAT WAS
(feat. members of FIELD MUSIC)
and
OTTER PETTER

Show - 10 PM // Canasta - 11 PM
21+ // $10 // Tickets