CANASTA - THIS SAT. @ E. BOTTLE + "TRIBUNE" FEATURE + NEW PHOTOS
(sent on 2005-06-24)
Hey everyone,
Saturday's Show
Just a reminder that THIS SATURDAY, June 25, Canasta will be playing at the Empty Bottle, opening for Longwave -- who are from New York, on RCA Records, and have toured with The Strokes. How's that? Well, this week's Onion, in recommending the show, also says they play "foppish shoegazer rock" that's "packed with hooks." So we're gonna try to bring the noise this time around, including the debut of a new song we think is pretty awesome. And intense. We'll be going on second, after another NYC band, Sam Champion, so it'll probably be around 11 PM. Get there early, though, cuz it'll be crowded.
Tribune Feature
In other news: Check out the "Friday" section of today's Chicago Tribune (June 24) for a feature story about Canasta! The article is based on interviews conducted with Matt and Ted Cho, our engineer. It's entitled "An indie spirit, not indie rock, sets Canasta apart" and can be found here: http://www.chicagotribune.com/entertainment/music/chi-0506240202jun24,1,4108088.story. And although it doesn't show up online, here's the photo from the print version...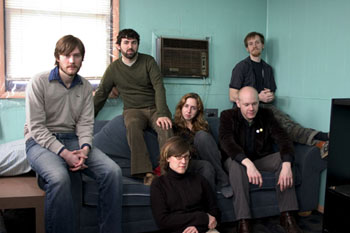 New Photos
Also, for the curious, we've just posted a few dozen new live photos on our website. Some were taken at our Schubas show in April, while others come from the Metro gig back in February, including a few shots featuring all of you! As usual, head to http://www.canastamusic.com/images to see the latest batch.
That's all! Keep cool, and we'll see you on Saturday night!
~ Canasta
www.canastamusic.com