News Archives For March 2005
index | previous month | next month | latest news
03.23.2005
There comes a time in every band's life when they inevitably decide that it is not enough merely to perform in front of an audience or to sell their records. They must also ensure that their name is emblazoned across the chest of their many adoring fans. Which is why Canasta has taken the opportunity, for the first time ever, to produce our own spin on that ever-popular casual fashion icon: the t-shirt. The Canasta shirt comes in three attractive color schemes (navy blue on baby blue, brown on cream, and black on heather) and in five sizes (XXL, XL, L, M, and S, all of which run a little small). Here's examples: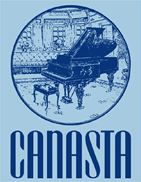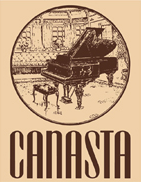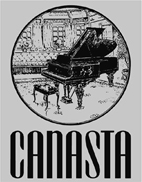 Anyway, if you come to our show on Thursday at the Double Door(opening for Kaiser Chiefs and The Changes), you'll have the opportunity to purchase one of these fine garments for the low price of $10. But don't expect to pick one up later: it's a limited run of 50, so they'll be out before you know it!
03.21.2005
We're back from the SXSW Festival in Austin after accumulating nearly 45 hours on the road. (It would've been less but we made a very wrong turn in Arkansas right before dawn on Sunday ... don't ask, we're not sure how it happened ourselves!) At least several of those hours were devoted to Matt's three-disc greatest hits of Elton John, which meant that we got to do the whole band on tour singing along to "Tiny Dancer" while looking wistfully out the windows of the van thing.
Our Saturday afternoon showcase at Momo's was fun and energetic, and we finished right before a beautiful, sudden Texas storm whipped through the open-air patio at the back of the bar. Since we were only there for a day, we didn't get to take advantage of the festival's excesses, but we did stop by the Polyvinyl showcase on Friday to see Saturday Looks Good to Me and Of Montreal. After which John ran into his favorite Seattle disco band, United State of Electronica, on the swarming sidewalk of Sixth Street. That's just how it is down there: crazy! We'll definitely be returning next year. (And a big thanks to Luke and Dawn for letting us crash at their place.)
03.17.2005
This past weekend saw Canasta take its first-ever mini-tour. On Friday we played at the swank Radio Radio in Indianapolis, where Ben used to live. The show was named one of the ten best bets for live music that week, and the responsive crowd seemed to agree. After a run-in at the famed Peppy Grill with a haggard dude who claimed we looked like AC/DC (um...?), we sped off for Louisville, hoping to score a last-minute show. We ended up at a dive called the Highlands Tap Room, where we were told we could play ahead of the blues-metal hardcore act Zampeg Moltar (!), but we were travelling without a drum kit, and by the time we were able to secure one, we only had time for two songs! We totally rocked them, though, and then repaired to the Back Door Bar and Grill for pinball, pool, and big pitchers of beer. Sunday found us in Nashville, at the thankfully more organized International Pop Overthrow Festival, where we played one of our best sets in some time. Unfortunately, we couldn't stick around, because we were driving straight back to Chicago that night. But our days on the road are already starting back up: tonight we climb into a mini-van and head down to Austin, Texas, for the SXSW festival. (P.S. Thanks to Brad, Kate, and Jennie for putting us up! Thanks also to John and Julia for the drums!)
03.04.2005