CANASTA as ELTON JOHN - Tom. (Fri. 10/29) @ Abbey Pub + Sat. 10/30 @ Terre Haute, IN
(sent on 2010-10-28)
Well lookee what we have here...
CANASTA AS ELTON JOHN:
FRI. 10/29 (TOMORROW) @ ABBEY PUB (CHICAGO, IL)
+ SAT. 10/30 @ THE VERVE (TERRE HAUTE, IN)
In celebration of Halloween this weekend, Canasta has prepared some Elton John songs and will be delivering them in full costume: we're talking garish suits, offensive ties, classless fedoras, feather boas, platform shoes and oversized sunglasses. We're doing an Elton-only set at Abbey Pub tomorrow night and then on Saturday, we'll be doing it again at The Verve in Terre Haute, IN, along with an hour of our standard stuff. Questions abound... Will there be enough time for "The Circle of Life" AND "Can You Feel the Love Tonight?" Who will play the role of Kiki Dee? Will we sing the original or updated lyrics to "Candle in the Wind"? Or will we have the good sense to skip all of that? There's only one way to find out. Details...

Tomorrow - Friday, 10/29
@ Abbey Pub (Chicago, IL)
"Last Alley's Halloweekend 2010"
Canasta performing as Elton John
plus five other bands performing as
Pink Floyd, The Kinks, The Beatles, The Cure and The MC5
Show - 8:30 PM / Canasta - 9:20 PM
$10 adv. / $12 door / 21+

This Saturday, 10/30
@ The Verve (Terre Haute, IN)
"Pre-Halloween Bash!"
Canasta performing as Elton John (and Canasta)
Show - 11 PM / Canasta - 11 PM
$5 / $3 with Student ID


KILLER GIG REVIEW FROM HOWWASTHESHOW?
For those of you who missed out on our tourdates with Decemberists side project Black Prairie, here's a review of last week's stop in Minneapolis by HowWasTheShow?'s David de Young that does a pretty nice job of capturing the special vibe we were all feeling. He says it "turned out to be one of the most enjoyable weeknights of music I've seen anywhere in some time" and goes on to state that "The Fakeout, the Tease and the Breather is arguably my favorite album released so far this year. The remarkably well-crafted songs just plain make me happy, encouraging listen after listen."
REPRINTED T-SHIRTS ARE GOING FAST!
Back by popular demand, before heading out on tour this month, we reprinted two of Canasta's most popular t-shirt designs. The former was our first ever and the features a classic, old-timey parlor piano, while the latter is our, uniting sci-fi and band geeks the world over, as it pays tribute to ABC's LOST and features our take on the logo belonging to the mysterious Dharma Initiative. But we've been selling a bunch of both on tour, so your options regarding color, size and style are dwindling! Here's what we've got left. Please note they're Canvas / Bella brand shirts, so they feel and fit like American Apparel (and run a bit small)...
Piano T-Shirt ($15)
Creme on Brown - Men's L / Women's L + XL
Black on Heather - Men's L + XL
Navy on Baby Blue - Women's L + XL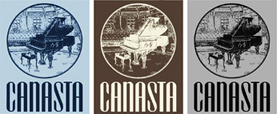 LOST: Canasta Initiative T-Shirt ($13)
White on Black - Men's M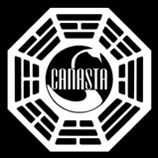 CANASTA


//
//
//
//
//
//
//
//