CANASTA - T-Shirts! + Indy (Tonight) + Mnpls., Schubas, Highwood + NYC Next Week!
(sent on 2010-10-13)
Land ho!
FIVE SHOWS IN THE NEXT NINE DAYS!
Regardless of what kinda shows you're into... free shows, local shows, road shows, shows with famous musicians, shows with nobodies, shows with a horn section, festival shows, holiday shows, indoor shows, outdoor shows, short shows or 135 min., triple-set shows (?!)... chances are, Canasta's playing your kinda show sometime this month. As always, extensive details can be found here, but here come the basics. We're finally getting back to Indianapolis, Minneapolis and NYC! And did we mention we're playing a couple of dates with the folks from The Decemberists?!? Man, it feels nice to be firing on all six enthusiastic cylinders again. Be there or be lame, people...
Thurs. 10/14 @ Locals Only (Indianapolis, IN)
"Broad Ripple Kickoff Party" (FREE, details)

Wed. 10/20 @ 400 Bar (Minneapolis, MN)
w/ Black Prairie (3/5 of The Decemberists!) (details)

Thurs. 10/21 @ Schubas (Chicago, IL)
w/ Black Prairie (3/5 of The Decemberists!) + The Canasta Horns (details)

Fri. 10/22 @ Highwood City Hall (Highwood, IL)
"The Great Pumpkin Festival" (FREE, details)

Sat. 10/23 @ Pete's Candy Store (Brooklyn, NY)
"CMJ Music Marathon" (FREE, details)
REPRINTED T-SHIRT DESIGN!
If there's one thing we've learned while rocking our way through this universe, it's that when the crowd demands more, you'd best give it to 'em. So we present to you... reprinted t-shirts! This was Canasta's very first design, featuring our logo and an old-timey parlor piano and until today, the shirt's been sold out for years. They'll be available at shows and via our website, here, and they're just $15! Listen, I'm all about Stuart Murdoch's kids going to college on those amazing melodies... But $30 for a Belle & Sebastian tour tee is just ridiculous. Anyway... Here are the available colors, styles and sizes:
Navy on Baby Blue - Women's M, L + XL
Creme on Brown - Men's / Women's M, L + XL
Black on Heather - Men's M, L + XL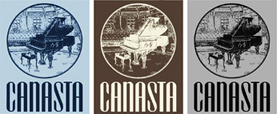 CANASTA


//
//
//
//
//
//
//
//