CANASTA - Mon. 10/6 w/ Autumn Defense (B. Lounge) + Tue. 9/23 (K College) + Obama videos
(sent on 2008-09-16)
Sad about the end of summer? Who isn't? Then join us, won't you, as we seek defense against the onslaught of autumn with the aid of The Autumn Defense (see what I did there?) The lush, pop duo - which consists of John and Pat from Wilco - bottles up the California sunshine and cracks it open on those blustery Chicago evenings. We'll be joining them on Mon. 10/6 for our first show at the brand new Bottom Lounge, now located in the West Loop (details below). Supposedly, the sound is top-notch and the space is quite large, so it should be pretty perfect for a band with far too many members and instruments (who are all these people, anyway?)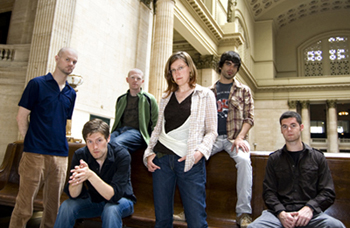 Next Tue. (9/23), we'll be playing two sets at our beloved Kalamazoo College. The event takes place on the Quad and is geared towards the freshmen class, but all students, faculty and alumni are welcome (details below). I dunno why they never bothered booking cool stuff like that for us when we were going there. Had they, who knows what sort of effect it might've had on me and where I'd be today?!? For all I know, I could be playing in some band somewhere...
In another easily digestible newsbyte, Canasta's ode to amore italiano, "Firenze," was recently used in some YouTube videos for Barack Obama's presidential campaign (two of which can be found here and here). The music's obviously not the focus, so it's not exactly the Spike Jonze-directed "Firenze" music video you've all been waiting for... but we were proud to help out just the same.
Apart from all of the above, stay tuned for news on an October tour to the CMJ Fest in NYC, as well as a Halloween show in disguise! Oh - and did I mention we've got some more t-shirts in stock, including more sizes and a new, light navy option? Well we do. Take it easy, everybody.
Canasta //
canastamusic.com
//
myspace.com/canasta
youtube.com/canastamusic
//
Canasta's Facebook Page
What are the members of Canasta into these days, you ask? Today, we check in with Matt...
Album:
La Cucaracha
by Ween, Song: "Jump in the Pool" by Friendly Fires, Word: nervewracking,
Movie:
Tell No One
, DVD:
The Wire, Season 1
, Restaurant: Turquoise Cafe (Chicago), Website:
Cake Wrecks