CANASTA - *3* Summer Fests: Millenn. Park (Sat. 7/10), Roscoe Village (Sun. 7/11) & Uptown (Sat. 7/17)!
(sent on 2010-07-02)
Holla!
THREE SUMMER FESTS OVER THE NEXT TWO WEEKENDS: SAT. 7/10, SUN. 7/11 + SAT. 7/17!
Suddenly, Canasta is the apparent darling of this summer's Chicago festival circuit. You've got not one, but THREE chances to catch us outdoors over the next two weekends. On Sat. 7/10, we'll be playing the FREE "Great Performers of Illinois" fest in Millennium Park's Wrigley Square (at Michigan & Randolph); we're doing 90 min. at 1:30 PM. Also on the bill are The Scotland Yard Gospel Choir, The Grant Park Symphony Orchestra and more. Then the next day, Sun. 7/11, we're headlining a stage at "Roscoe Village Burger Fest" (at Belmont & Damen). As strange as this may sound, while we're on at 8:30 PM, headlining the opposite stage will be none other than Gin Blossoms (Cameron McGill and School of Rock also play). Then on Sat. 7/17, we're doing "Uptown's Windy City RibFest" (at Lawrence & Broadway). We'll go on at 2 PM, after which bands like Sister Hazel and Jon Drake & The Shakes will perform. Find details on all three shows at the bottom. I'm not sure it's ever been easier to catch a Canasta set in Chicago than it is this July!
THE HIGHWOOD FAMERS MARKET GIG HAS BEEN RESCHEDULED
Don't fret... We still fully intend to rock the Highwood Evening Gourmet Farmers Market. It just didn't take place last Wednesday, as originally scheduled. Instead, we're now doing it on Wed. 8/4 instead. It's going down next to the Highwood City Hall, it's completely free and we're playing two sets: one at 5 PM and another at 7. Prepare to have your basket of cucumbers knocked right over. Details below...
GREAT PRESS FROM REDEYE, ILLINOIS ENTERTAINER + ADEQUACY.NET
The press continues to roll in... An issue of RedEye last week called our record "one of the best Chicago albums of the year" (see the scan below), while Illinois Entertainer posted this short, but sweet piece. But perhaps most exciting is this rave review from the taste-making blog Adequacy.net, which calls The Fakeout "an album that manages to astound just as much on the first listen as it does on the fifth... Rarely is new music categorized as being both immediately accessible and dizzingly complex, but Priest and co-founder Elizabeth Lindau manage this feat so adroitly that... at times it makes even [Arcade Fire's] Win Butler and Régine Chassagne look like rookies..." Whoa.
CANASTA AUDIO PIECE / INTERVIEW FOR WLUW'S "THE RETROSPECTIVE"
'Nuff said. Hear for yourself!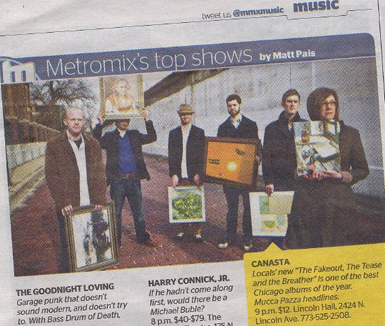 CANASTA


//
//
//
//
//
//
//
//
---
SATURDAY, JULY 10TH
@ "GREAT PERFORMERS OF ILLINOIS"
WRIGLEY SQUARE, MILLENNIUM PARK
(MICHIGAN AVE. & RANDOLPH ST. - CHICAGO, IL)
CANASTA
with
THE GRANT PARK SYMPHONY ORCHESTRA (Conducted by Xian Zhang),
THE SCOTLAND YARD GOSPEL CHOIR, NICHOLAS TREMULIS ORCHESTRA,
JASON RINGENBERG (of Jason & The Scorchers), GOLD MOTEL
YURI LANE: HUMAN BEATBOX + MORE

Show - Noon // Canasta - 1:30 PM // FREE // All Ages
****************
SUNDAY, JULY 11TH
@ "ROSCOE VILLAGE BURGER FEST"
(BELMONT AVE. & DAMEN AVE. - CHICAGO, IL)
CANASTA
with
GIN BLOSSOMS,
CHRIS BUERHLE, CAMERON MCGILL,
SCHOOL OF ROCK + MORE

Show - Noon // Canasta - 8:30 PM // $5 // All Ages
Benefits the Roscoe Village Chamber of Commerce
****************
SATURDAY, JULY 17TH
@ "UPTOWN'S WINDY CITY RIBFEST"
(LAWRENCE AVE. & BROADWAY AVE. - CHICAGO, IL)
CANASTA
with
SISTER HAZEL,
DICK HOLLIDAY & THE BAMBOO GANG
JON DRAKE & THE SHAKES + MORE

Show - Noon // Canasta - 2 PM // $5 // All Ages
Benefits the Business Partners: The Chamber for Uptown
****************
WEDNESDAY, AUGUST 4TH
@ "HIGHWOOD'S EVENING GOURMET
FARMERS MARKET"
(HIGHWOOD CITY HALL - HIGHWOOD, IL)

CANASTA

FREE // All Ages
Market - 3 PM // Canasta - 2 sets: 5 PM & 7 PM