CANASTA - 2 New Streaming Tracks + 3 *FREE* Downloads from "The Fakeout"!
(sent on 2010-04-21)
Can I get a witness?
TWO NEW STREAMING TRACKS + *THREE* FREE DOWNLOADS FROM THE FAKEOUT
You read that right. Along with the two new tracks we owe you (sorry we forgot to e-mail you last week), we're also giving away three of the album's tracks absolutely FREE as high quality MP3's (320 kbps)! Get 'em while the gettin's good...
Stream: Reading the Map Upside Down
Stream: Choosing Sides
Download: Mexico City
Download: I Don't Know Where I Was Going with This
Download: Reading the Map Upside Down

And, as always, you can stream the remainder of the album (minus tracks 10 and 11, which are still forthcoming) at any of these locations...
CANASTA'S WEBSITE // SOUNDCLOUD // FACEBOOK // MYSPACE // LAST FM // PURE VOLUME
BEHOLD... THE ALBUM COVER!
For The Fakeout's visual element, we were lucky to incorporate the work of four incredibly talented friends and we're 100% over the moon about the look of the whole thing. The album's insert, tray card and disc face were all designed and laid out by Chris Hayes. Meanwhile, the still photography was handled by Megan Crosby and the band photography by Sarah Hadley. Once you've got your hands on the disc, those credits will make more sense. The album cover, itself, is based on a painting by Brett Whitacre, a colorblind artist who spraypaints projected images onto old windows he finds in junkyards and thereabouts. Check it out (click on it to see a much larger version)...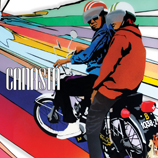 2 RECORD RELEASE SHOWS @ SCHUBAS (SAT. 5/8) + MADISON W/ CLEM SNIDE (FRI. 5/14)
The title of this section pretty much says it all. Don't you dare forget about our two upcoming shows now, ya hear? Details are below. As always, thanks for reading / listening and we'll see you soon...

CANASTA


//
//
//
//
//
//
//
//