CANASTA - Movie Trailer! + Old St. Pat's Block Party (Sat. 7/19) + Schubas, FREE (Sat. 7/26)
(sent on 2008-07-03)
So listen... Have you ever dreamt of seeing Matthew Broderick and Alan Alda walk in slow-motion to a Canasta song? Well today, your dream becomes reality! IFC Films is just about to release their new movie, Diminished Capacity, and about halfway though the trailer, "Slow Down Chicago" comes crashing in! Most of the story takes place here in town, so the song sounds right at home. The picture, which also stars Virginia Madsen, opens in both Chicago and NYC tomorrow, July 4th. Check it: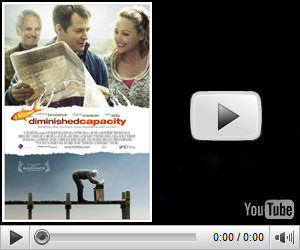 But despite the band's brush with the silver screen, fear not... the rock n' roll stage is still our first love! And in July, you've got two good chances to see us prove that. First, on Sat. 7/19, we're playing "Old St. Pat's World's Largest Block Party" (at Madison & DesPlaines St.). With an expected attendance of over 12,000 (and FIVE drinks included in the cover), it should be far and away our biggest (and drunkest) audience yet. Pat Monahan, the guy from Train, is headlining and promises to drop some mad jupiter on all y'all. We're on first of three at 5:30 PM and tickets are $35 in advance or $40 at the gate. But it's also a benefit for Old St. Pat's Mission and Outreach Activities, so suck it up.
If that's a little steep for you, then come out one week later, on Sat. 7/26, to the acoustically glorious Schubas. We're headlining a FREE show there, with our best buddies/rivals Brighton, MA! Earlier that day, our good friend/superfan Theresa is getting married and this show is an extension of that event. But half of the tickets are open to the public... so get there on time (10 PM) and be ready to rock around the clock (we're on about 11:30). Two big shows, two Saturdays in a row - Don't say we never do anything for ya.
Canasta //
canastamusic.com
//
myspace.com/canasta
youtube.com/canastamusic
//
Canasta on Facebook
What are the members of Canasta into these days, you ask? Today, we check in with Matt...
Album:
Taproot Manuscript
by Neil Diamond, Song: "Calling Occupants of Interplanetary Craft" by The Carpenters
Movie:
Diminished Capacity
, DVD:
Rambo
, Restaurant: ZED451 (Chicago), Word: nutso, Website:
Grooveshark