CANASTA: T-Shirts! + B. Kitchen (Tomorrow) + Iowa City (Sat. 4/21) w/ Aqueduct
(sent on 2007-04-05)
Hi there friends,
Just a reminder that Canasta is playing the Beat Kitchen tomorrow night. We're second, between the theatrical Mark Mallman and the tuneful Honeydogs, but we'll be playing an hour-long set. Which will really let our two new musicians?guitarist Jeremy Beckford and pianist Charlie Williams?show off their chops.
If that's not enticement enough, what about the fact that we finally have new t-shirts? Yep, we just got them in, and I must say, they look pretty great. Designed by Steve Jones, they feature a jigsaw-like illustration of all the instruments in the band, along with our usual logo, and they're available in all sizes and in two colors: salmon on burgundy for the women's cut and blue on asphalt for the men's (as seen below). Come to the show and get your very own!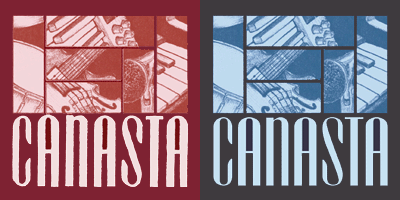 In other news, we'll be making our Iowa City debut on Saturday, April 21, opening for Aqueduct and What Made Milwaukee Famous at the Picador?so let all your friends out there know (assuming they're not too busy shaking hands with presidential candidates). And if you haven't yet checked out our music video of "Microphone Song," you're in for a treat.
See you tomorrow!
~Canasta
www.canastamusic.com
---