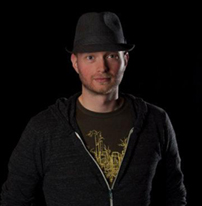 Name: Ryan Tracy
Height: 6' 0"
Eye Color: Blue
Birthday / Sign: May 4, 1982 / Taurus, though I relate better to the Gemini
Band Nickname: They say I'll get one after the hazing stops…
Instruments: Piano, keyboard, bass, cello and vocals
1st concert you attended: First show I bought tickets to was Smash Mouth w/Luscious Jackson @ Aragon Ballroom. Stop laughing, Smash Mouth was awesome in 1997!!
1st CD purchase: The year my family got a CD-stereo system, my sister and I each got to pick a CD. I took "We Can't Dance" by Genesis (she took "The Sign" by Ace of Base in case you're curious)
Best concert ever attended: I flew to Tucson, AZ to see Ben Folds' first solo show after Ben Folds Five broke up and on the drive from Tucson to Tempe (where the show was), my friend's car broke down in the middle of the desert, and we had to have his dad come pick us up and drive us the rest of the way. His dad then proceeded to wait around for us at the show in Tempe and drive us all the way back to Tucson that same night. The show itself was amazing, and I don't think the whole experience could be beat…
Some favorite bands: Ben Folds, Jimmy Eat World, Company of Thieves, Silversun Pickups, The Arcade Fire, The Decemberists, The White Stripes
What have you been listening to lately? Julian Casablancas, Japandroids, Passion Pit, Clem Snide, Hockey, Calexico, The Delgados
What's the best part about being in a band? I can't remember the last time I said "I need new music"
Hardest part? Those times when it feels like all you're doing is spinning your wheels
Favorite Canasta moment? Finding out that Elizabeth and I grew up less than a mile away from each other. Go Bulldogs!
Favorite Color: Green
Favorite Food: Can I just say "yes?" I suppose I gravitate more towards sushi, Thai, and seafood, but I enjoy just about everything.
Favorite Book: tie between Lolita, by Vladamir Nobokov and Heart of Darkness, by Joseph Conrad (with honorable mentions to anything by David Sedaris)
Favorite Movies: One Flew Over the Cuckoo's Nest, Pleasantville, Seven, The Usual Suspects, Toy Story, Airplane!
Favorite game: Nothing can beat summer softball in Chicago. For those rainy days and winter, Mario Kart on the Wii and a few hands of Euchre will keep me entertained for hours. I do love board games, but let's get one thing straight: if we're playing Monopoly, you better be ready to make deals!!
Pet? (current or childhood): Don't have one yet, but looking to adopt a kitten soon whom I will name "Isosceles"
Favorite childhood vacation: I remember the trip to Mexico where my face met the ocean for the first time. I missed the memo about the salt…
Favorite weather: 75 and sunny during the day with a thunderstorm at night