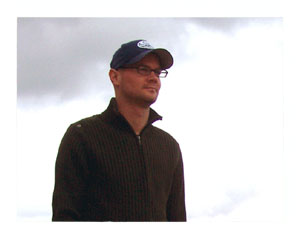 Name: Jeremy Beckford
Height: 6'
Eye color: Blue
Birthday / Sign: February 7, 1976 / Aquarius
Band nickname: Working on that.
Instruments: Guitar and vocals
1st Concert you attended: 1st big touring show was U2/Public Enermy/The Sugarcubes. It was on the Zoo TV tour, crazy stadium style. I met Flava Flav, with his super blinged gold teeth. Way before everyone else was sporting the gold. Björk's voice was amazing in the Franklin Mountains.
1st tape or CD purchase: Billy Idol - Vital Idol. 5th grade could not be accomplished without "Mony Mony". Did anyone else put tape over their Madonna cassette tapes to record off the radio?
Best concert you ever attended:
Faith No More - 1998 Las Vegas, Huntridge Theater - My first Patton experience was religious, as Patton has always been a god to me. He walked out onstage playing that handheld keyboard with the tube you blow. "Blew" me away.

Red Hot Chili Peppers - 1999 Las Vegas, Huntridge Theater - First off, you have to realize that most of the bands I loved never came to El Paso, so you'd have to drive 12 hours to see them, so anytime you travel that much, a concert sticks out to you. This was a month after Frusciante returned to the band minus the heroin. Stood right in front of the flea the whole night making faces while he mimiced them back at me.

Mr. Bungle 2000 - Albuquerque (pronounced albuturkey) - Sunshine Theater. A musical feast, Bungle at it's pinacle.

Fishbone 1999 - El Paso Club 101 - Legends, nothing less. Inspired me to pick up a trombone and join a band. Got to meet Angelo Moore and tell him how they effected me. To which he replied, "Give me a hug" Everyday is sunshine, baby!

American Analog Set 2006 - Schuba's - Yes it was worth flying from El Paso to hear "Punk as fuck" live.
Some favorite bands: American Analog Set, The Arcade Fire, Beastie Boys, Beck, Belle and Sebastian, Björk, Broken Social Scene, Cake, Calexico, Death Cab for Cutie, Doves, Dub Trio, Faith No More, Feist, Johnny Cash, Jose Gonzalez, Iron and Wine, The Flaming Lips, Fugazi, Gorillaz, Helmet, Hendrix, Led Zeppelin, Aimee Mann, Massive Attack, Mr. Bungle, Peeping Tom, Pinback, Pixies, Portishead, Primus, Prince, Queens of the Stone Age, Radiohead, Refused, The Roots, The Shins, Sigur Ros, Soul Coughing, Spoon, Stars, 311, The Dismemberment Plan, Tomahawk, Tool, A Tribe Called Quest, Yo La Tengo, Zero 7
Favorite records:
Faith No More - King For a Day, Fool for a Lifetime
Mr. Bungle - California
Red Hot Chili Peppers - Blood Sugar Sex Magic
Fishbone - Give a Monkey a Brain, and He'll Swear He's the Center of the Universe
Portishead - Portishead
Pinback - Pinback
Radiohead - OK Computer
What have you been listening to lately? Canasta, Voxtrot, Gomez, Peeping Tom, Rogue wave, The Decemberists, Zero 7, This Will Destroy You, Russian Circles, Secret Chiefs 3, Annuals, Dismemberment Plan
What's the best part about being in a band? Finally having an excuse to wear "faux" leather pants.
Hardest part? Organizing the herd.
Favorite Canasta moment? Before I made it in the band… I walked to the door outside their practice space to audition for them for the first time and heard them playing this incredible song, "Mexico City". The thought of joining this amazing collective gave my tummy quite a stir.
Favorite color: Blue
Favorite food: Sushi
Favorite book: The Celestine Prophecy
Favorite movie: Random favs...
The Empire Strikes Back
Swingers
American Beauty
A Bronx Tale
Casino
Leaving Las Vegas
The Big Lebowski
La Bamba
Pet? (current or childhood): Zephyr-the cat that thinks she's a dog.
Favorite childhood vacation: Six Flags in Dallas. Somehow spinning around in a circle while the floor dropped out seemed like flying. Anything circular now is an instant puke.
Favorite weather: In El Paso - 30 minutes before a rainstorm. Creosote bushes open up and emit this scent that should be bottled and marketed. In Chicago - Sunset at 70 degrees, it's like summertime off from school.